The Advantages of PVC Patches: What Makes Them Stand Out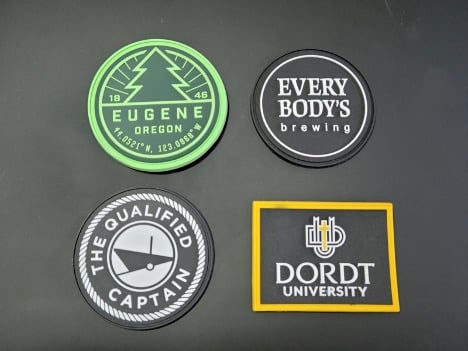 Embroidered patches have long been used in many types of clothing and other garments. While they've been the go-to option for patches, PVC patches seem to be becoming more popular nowadays. The top-notch printing process gives your patch a smooth, seamless design that looks professional. In this guide, let's explore what PVC patches are and how they are different from other types of patches.
What Are Custom PVC Patches?
PVC patches are printed on sheets of a material called polyvinyl chloride (PVC). This material is a lot like plastic and resembles a sheet of rubber. It was invented in the 1800s and can be used for a wide variety of products. It is a popular substance for making shower curtains, surfboards, and windows. PVC patches have only been around since the 20th century, but they have gained popularity in recent years.
If you are a retailer or a sports fan, PVC patches are a great way to customize your clothing, including hats, t-shirts, jackets, bags, and more. They are a fun, novel way to express your creativity, team spirit, and personality. They are also used by various businesses for corporate gifts, employee recognition, advertising, and promotional activities.
The Printing Process for PVC Patches
PVC patches are made using a cutting technique known as laser cutting. The machine that cuts the patch designs onto the PVC film is a laser etching machine. This process uses the laser's heat to melt and cut the PVC film into your design. Once they are cut out, they are imprinted with inks to give them the color you want.
Why Use PVC Patches?
The popularity of PVC patches has increased for a number of reasons. Here are some of them:
Strong – The PVC material is thick and durable, making it great for custom patches. It can withstand the rough wear and tear that comes with being in the field or put onto clothing.
Flexible – PVC material easily bends and conforms to a variety of different shapes without fraying or ripping. This allows a PVC custom patch to be placed on curved surfaces, like a guitar body, without having to be cut into different shapes. The patch can maintain its original shape no matter where you place it.
Waterproof and Weather Resistant – PVC patches have excellent water-resistant quality. They can withstand rain and other elements that would normally damage paper and other types of patches.
Sharp Printing – The printing process for PVC patches gives the patch a rich and clean look. In addition, they are printed with a variety of different inks, including silk-screen and digital printing techniques. This gives the patch a nice, professional appearance.
Variety of Designs – You can get PVC patches with a wide range of different designs, including the standard rectangle shape that some other types of patches have. They can also be shaped into different designs, like a heart or circle, for more personalization.
Affordable – The cost of PVC patches is less than that of embroidered patches, making it a more economical option.
Conclusion
PVC patches are an excellent choice for a wide variety of applications. They might not be as popular as embroidered patches yet, but they are an excellent alternative for a number of reasons. As more people become aware of them, we expect to see more and more PVC patches in the future.
When it comes to custom patches, Artex Group is the only name to trust. Since 2002, we've been designing custom-made patches to meet our clients' specific needs. However you choose to use custom patches, we'll make them just the way you want them to be. Contact us today to request a quote!
https://www.artexgroup.net/wp-content/uploads/2022/03/PVC.Patches.jpg
351
468
Marketing Department
https://www.artexgroup.net/wp-content/uploads/2021/11/Artex-blue-logo.jpg
Marketing Department
2022-03-04 11:34:09
2022-03-06 19:59:37
The Advantages of PVC Patches: What Makes Them Stand Out