What to Know About Custom Polyvinyl Chloride Patches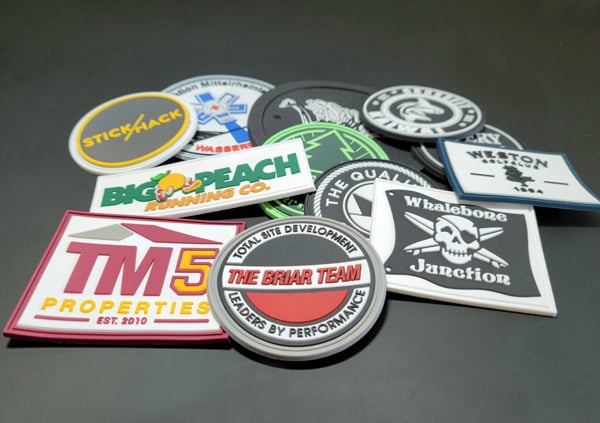 Custom PVC patches are exactly what they sound like—a patch that features your logo or some other design in a PVC material, created specifically for you. PVC patches are the perfect way to sew or iron your brand's logo onto hats, jackets, backpacks, and even bags and purses. You can also purchase a patch holder or a pocket or use an iron-on adhesive to attach your patch to any flat, smooth surface.
Today, let's explore custom PVC patches and what you need to know about them:
What is Polyvinyl Chloride?
Polyvinyl Chloride, or PVC for short, is a material made out of a polymer chain, which is a molecule with a repeated chain of atoms. Its name is derived from its origins and purpose, so it is also known as vinyl. It is manufactured by polymerizing ethylene and chlorine, both found in natural resources.
It is used in many industries because of its unique properties. These include the fact that it is very economical, making it the preferred material for certain jobs. It can also be easily molded, so it is used to manufacture many artistic pieces, such as sculptures and toys.
Why are PVC Patches Special?
PVC patches are also special because of how they are made and used. To give you an idea, they are created using a printing process that uses screen printing, which transfers a layer of ink onto the PVC material. It is then baked in an oven, fusing the ink to the PVC.
These patches can carry various designs, and PVC patches come in various sizes, to carry your message well.
The Benefits of Using PVC Patches
PVC patches are very durable and versatile, and there are multiple benefits for choosing a PVC patch.
Application – Custom PVC patches are used for many different things, most commonly as identification and branding for a group, club, or company. They are frequently attached to hats, jackets, bags, and backpacks, to name a few places. They can also be attached to clothing, like t-shirts, to support a team or brand.
Affordability – Although it is made of plastic, PVC patches are still affordable, making them the perfect option for budget-conscious people.
Durability – PVC patches are very durable as well. This is its main advantage over other materials, especially when it comes to identification and branding.
Versatility – Unlike embroidered or woven patches, PVC patches are very versatile. They can be applied to multiple materials and are colorfast and waterproof..
How to Get Custom PVC Patches Made
Getting custom PVC patches made is a pretty simple one. Our team can help you with your design or you can choose to upload your logo or image, which we can transfer onto the PVC.
The Bottom Line
There are so many ways that you can use PVC patches. You can use them to identify and promote your brand as a business or organization. You can also use them to put your logo or an image on a hat, t-shirt or bag. The list goes on.
Remember, no matter what you choose, you can always trust us to provide high-quality PVC patches. That's because we are dedicated to offering the best customer service possible. That's a guarantee.
Get in touch with us today if you want to buy custom patches. We'd be happy to help. Artex Group has been designing custom patches since 2002. Whether you want to enhance your brand's current patch or you want one of our dedicated designers to create a new patch design for your business, we have you covered!
https://www.artexgroup.net/wp-content/uploads/2022/03/What-to-Know-About-PVC.jpg
450
600
Marketing Department
https://www.artexgroup.net/wp-content/uploads/2021/11/Artex-blue-logo.jpg
Marketing Department
2022-03-04 12:05:19
2022-03-04 15:36:43
What to Know About Custom Polyvinyl Chloride Patches