7 Benefits of Custom Patches for Your Business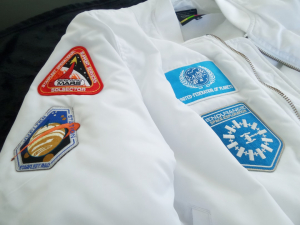 Custom patches are unique and versatile accessories. They add a distinguished look to outfits but they can also be fun and powerful forms of individualism.
While military branches have used embroidered patches to distinguish between the ranks of service members, custom patches have also found their way into the fashion industry as a tool of self-expression.
The 1960s through the 1980s brought about anti-war protests, civil rights movements, and inclusivity marches, with custom patches at the forefront of expression and solidarity.
However, there are other uses for custom patches that can help benefit your business. If you're interested in finding out about the 7 main benefits of using custom patches for your business, then keep reading below to discover more information.
1. Custom Patches Unify Your Employees
Uniforms are only one part of your business, but they can play an even bigger part when they're used in conjunction with custom patches. When everyone on your team has custom patches, they'll feel more connected to one another.
Uniforms with custom patches also help employees feel more like equals so there is less of a need for comparison among their co-workers. This can increase their productivity and teamwork factor as well.
Whether it's a company logo or a custom name patch, your employees will feel like a valued part of the working team. They will wear their custom patches with pride and proudly display them for others to see.
2. Embroidered Patches Are Professional Looking
In addition to helping unify your employees, custom patches also make your employees look more professional. When your employees are wearing custom patches, it establishes your company's image in a positive light. This means that when your employees serve your customers, they will give off a more polished appearance in representing your company.
Custom patches amplify your business's persona. You can impress your customers with a more skilled look.
This, in turn, will also help your customers see your business through new eyes. They will view your business as one that cares about its image. Your customers will also see how your company strives to maintain a high-quality overall impression.
3. Custom Patches Promote Brand Awareness
With just 7-10 seconds to make an impression on a customer, you need to use every tool at your disposal to create a connection between your customer and your brand. Add to that the fact that 55% of this first impression of your brand is based solely on visual imagery alone.
Using custom patches is a great way to subtly put your brand out there where your customers can see it. Each time a customer sees your brand on these custom patches, it creates an impression on them. Within 5-7 impressions, your brand becomes more memorable to your customers.
It's a natural interaction with your brand through a common piece of attire.
4. A Custom Patch Is a Free Form of Advertising
Of course, custom patches aren't just great for promoting your brand with your customers, they are also ideal for creating more exposure for your business outside of your company. At the corner store or the coffee shop, when you or your employees wear custom patches out around town, you're increasing the number of eyes on your brand even further.
But your custom patches don't have to be just on your clothing. Custom patches for hats are also one of the many ways to style these unique designs for your business. Using the right logo design and colors on your custom patches can also increase your brand recognition by up to 80%.
5. Embroidered Patches Are More Cost-Effective
There's no denying that custom patches look great. But they are also a cost-effective way to help promote your brand and boost your business.
With custom patches, you won't have to break the bank. You can get custom patches made for far less than the standard chunky cheap-looking name tags or expensive fully embroidered uniform pieces.
You can get beautifully done and professionally designed custom embroidered patches for your business and still look great while saving money. Buying in bulk is also a terrific way to save since most custom patch makers will give you a pricing break discount for ordering over a certain amount of custom patches.
6. Using Custom Patches Offer an Increased Sense of Security
Yes, custom patches help your employees feel more unified, but they also take it a step further by increasing security in your business. Custom patches are harder to duplicate. Their uniqueness makes it more difficult to let just anyone pass by undetected.
With custom patches, your employees are much more distinguishable with your company's logo prominently displayed. When everyone is more easily identifiable by their custom patches, you'll run less of a chance of someone trying to pose as an employee to sneak into your company.
This will give you peace of mind knowing that your business is only accessible to those who wear the custom logo patches.
7. Custom Logo Patches Provide Durability and Versatility
Another benefit of custom patches is their durability. They also have many forms of versatility in their design types.
Custom PVC patches are constructed from rubber, giving them a textured appearance and making them more durable than other custom patches. They are weatherproof and can stand up to tough outdoor environments. Your custom patches will stand the test of time and last much longer than other name tags and emblems.
Custom patches also come in other styles like woven patches. These patches have all of the same qualities of embroidered patches, but they use finer threads in their design. This provides clearer and more precise details of your logo to shine through. Choose from different thread types as well.
Order Custom Patches for Your Business From the Artex Group
Custom patches offer your business so many great benefits. You'll wonder why you waited so long to order them in the first place. When you need custom patches for your business, turn to the Artex Group.
The Artex Group has been making custom patches for 20 years. Our team of in-house designers can help you through the process of designing and bringing your custom patches to life. We have the experience you need with over 150 million patches created across a wide spectrum of businesses and organizations.
Contact us today to request your free quote for your custom patches for your business.
https://www.artexgroup.net/wp-content/uploads/2022/09/Spacemans-Jacket.jpg
810
1080
Marketing Department
https://www.artexgroup.net/wp-content/uploads/2021/11/Artex-blue-logo.jpg
Marketing Department
2022-09-27 11:07:48
2022-09-27 11:22:06
7 Benefits of Custom Patches for Your Business